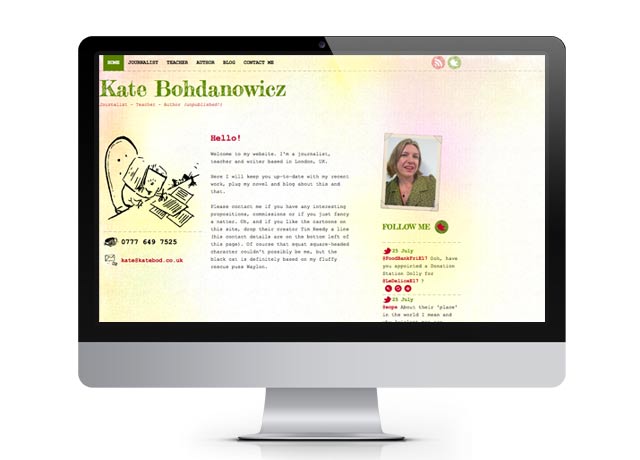 Kate Bohdanowicz is a London based journalist, teacher and writer and we were chuffed she wanted this Bradford based web design studio to develop her online presence. She is also great to work with and has even helped us with some print and website copywriting jobs over the past few weeks.
Kate had a pretty clear vision of the website she wanted to create for promoting her new freelance status. It was to be creative using some choice colours and be a little less conventional in layout.
The criteria were as follows:
Convey Kate's personality with the look and feel of the design
Mobile friendly/responsive design - means it had to look good on mobiles and tablets
Have a blog that's easy to update
Be search engine friendly with ability to optimise page titles
Include some bespoke illustrations created by Illustrator Tim Reedy
Kate has had excellent feedback about her website regarding the design and also the blog that Kate maintains on a regular basis.
MODx was used for the Content Management System which we configured to work for Kate's specific needs. Social network share icons were included and specific Twitter share functionality was added to the Twitter feed for the quick repurposing of content.
View the website in our portfolio.
Check out Kate's website here: www.katebod.co.uk
If you need any copywriting, proofreading or article writing then contact Kate at her website.